Far & Wide
Wu Shu Kwan has training centres and members all over the world. Many Black Belt holders abroad travel to London to train with Grand Master C K Chang regularly to gain more knowledge and achieve higher technical skill, because the depth & quality of training just cannot be found anywhere else.
Recent Visitors
Amongst the recent visitors were Bernie Sharland from Australia and Richard Blackman from Barbados (West Indies); both are holders of Wu Shu Kwan 5th Degree Black Belt. Bernie's visit was just a few days earlier than Richard's.

Bernie (left): After a training session with Grand Master in Fulham, London in August 2018.
(Text about Bernie in red)
Bernie Sharland from Australia
He started training in Wu Shu Kwan in 1974 in Liphook, Hampshire with Senior Master K S Tham. In 1976, Bernie moved to Surrey then he joined Senior Master Eddie Cheah for training in Guildford. Every Sunday morning Bernie and his friends would travel there for some great training with Eddie, who took him and his friends through the grades up to First Grade (Brown Belt). His friends fell away because of the usual distractions in their young life.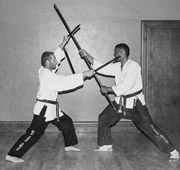 Bernie (left) (using a 3-section staff, his favourite weapon) expertly warding off a stick attack from Peter Lewis & simultaneously countering with a strike to Peter's head. Bernie & Peter were training partners in the late 1970s.
New-found Training Partner Peter Lewis
Bernie found an excellent training partner in Peter Lewis and prepared seriously to take their Black Belt in 1979. However, Peter and Bernie decided to take their Black Belt grading in May 1980. Unfortunately Bernie sustained a broken floating rib in training, nevertheless he was determined to take the grading, so he pushed on. "Oh, what a day!" Bernie recalled; he added that he loved it although painful with his rib. Peter Lewis came top but Bernie unfortunately fell short and failed.
Determination & Training Five Times a Week
Bernie did not worry because he knew his close failure was due to an injury. So he set his sights on November 1980, which turned out to be his birthday. Bernie was training five times a week between Grand Master C K Chang & Senior Master Eddie Cheah's classes. He was so excellently prepared that he passed his Black Belt on his birthday with flying colours! A job well done. He then started teaching in his hometown of Haslemere, Surrey for a couple of years.
The Lure of Australia
Australia was next for a working holiday and then back to UK for his 2nd Degree in November 1984. In April 1985 he emigrated to Australia and the rest is history: going back and forth taking his 3rd, 4th & 5th Degree Black Belt, which he attained in August 1998.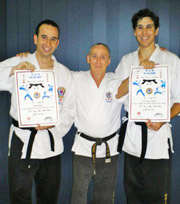 Bernie's students Adam Haque (left) & Christopher Cigulev proudly & happily showing off their coveted Wu Shu Kwan Black Belt certificate at their class in Perth, West Australia.
Bernie now lives in Perth, West Australia, and he has trained a number of Wu Shu Kwan students there to become Black Belt holders including Adam Haque and Christopher Cigulev.
Grand Master C K Chang & Senior Master K S Tham
They met in the East many years ago when Grand Master was giving a demonstration of unarmed combat skills in a jungle warfare school (camp), where Grand Master was teaching, to a privileged group of military officers including Senior Master Tham.
Good Friends
They became very good friends and they promised to meet up again. They met up in England, and Senior Master Tham helped Grand Master to make Wu Shu Kwan even stronger.
Grand Master's Military Connection Continued
Because of his immense reputation and unarmed combat ability, Grand Master at that time had been invited to instruct at various military centres including Chelsea Barracks, Woolwich, Aldershot, Bordon, etc. Grand Master's action photo on this page with a military officer was taken at one of these centres.
Senior Master K S Tham
He was a very friendly and an extremely good Wu Shu Kwan instructor. Many senior instructors had benefited from his teaching. Unfortunately, there weren't many photos of Senior Master Tham available because of his military background. However, there was a rare glimpse of him appearing with Grand Master at one of the Black Belt grading exams many years ago and another as the attacker with a sword in an action photo with Grand Master. •
Richard (right): Before a training session with Grand Master in Willesden, London in August 2018.
(Text about Richard in blue)
Richard Blackman from Barbados, West Indies
Richard started Wu Shu Kwan training in 1973 and attained 1st Degree Black Belt in 1977. And, with many years' hard training, he made tremendous progress & rose through the ranks – in 2006 he was awarded the 5th Degree Black Belt. He is now the Wu Shu Kwan chief instructor in Barbados, and runs regular classes there. Barbados is a breathtakingly beautiful island nation in the West Indies.

Richard smashing 4 pieces of wood placed on the floor with a powerful chop.
Superb Technique & Great Power
Like most of the Wu Shu Kwan 5th Degree Black Belt holders, Richard is a master of using a 3-section staff & has extremely powerful breaking techniques. You can see his action photos in this article.
Accomplished & Dedicated Disciple
Richard is one of the most senior and accomplished senior WSK instructors in the West Indies, and he loves to train with Grand Master as often as he can; he would even travel to London to attend the WSK Seminar!
A Pillar of Support
Wu Shu Kwan is very strong in the West Indies owing to the dedication of our WSK instructors in Barbados, Jamaica and Trinidad. Richard, a Bajan or Barbadian, travels regularly to Trinidad to support the training and grading there. Whenever Grand Master travelled to Trinidad to conduct Black Belt and Higher Degree grading there, Richard is always at hand to help and would avail himself of training with Grand Master.
Appreciation by Trinidadians
Trinidad WSK is always grateful to Richard for taking the trouble to travel from Barbados to help. In appreciation of Richard's support, a special banner welcoming the London WSK team together with Richard was always prominently displayed whenever Grand Master and his team were there.
Richard's Plan of Action
Richard will be joining the London and Jamaican Teams again for the WSK Black Belt & Higher Degree grading to be held in Trinidad in August 2019. It is going to be a very busy one. •